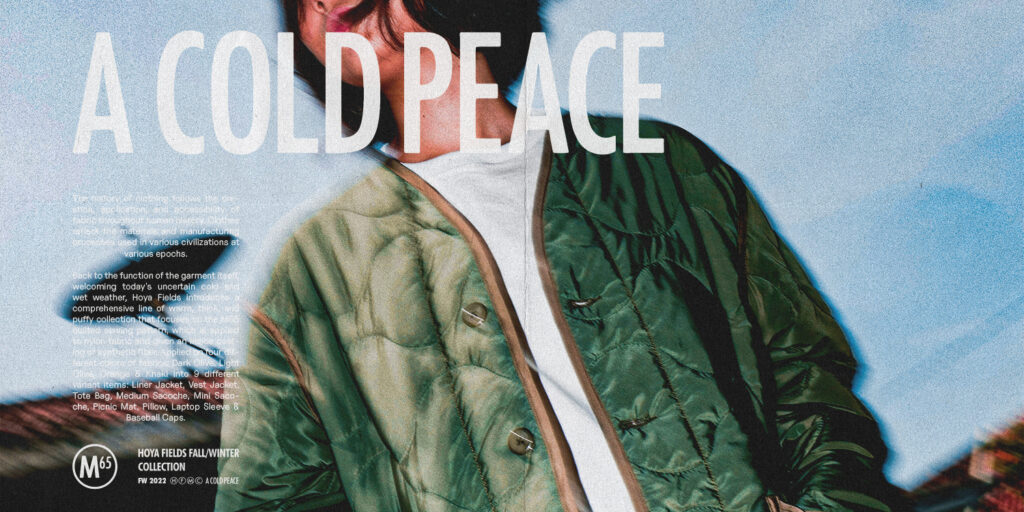 Hoya Fields F/W 2022: 'A Cold Peace'
Hoya Fields FW22: "A Cold Peace"
22 End-year Fall/Winter collection by Hoya Fields titled:"A Cold Peace"
The history of clothing follows the creation, application, and accessibility of fabric throughout human history. Clothes reflect the materials and manufacturing processes used in various civilizations at various epochs.
Back to the function of the garment itself, welcoming today's uncertain cold and wet weather, Hoya Fields introduces a comprehensive line of warm, thick, and puffy collections derived from the M65 quilted sewing pattern in nylon fabric and sporting an inside coating of synthetic fiber.
Applied on four different colors of fabrics: Dark Olive, Light Olive, Orange & Khaki into 9 additional variant items: Liner Jacket, Vest Jacket, Tote Bag, Medium Sacoche, Mini Sacoche, Picnic Mat, Pillow, Laptop Sleeve & Baseball Caps.
A Cold Peace: A comprehensive line of warm, thick, and puffy utilitarian items", is now live on Hoya Fields Webstore.
www.hoyafields.co